BFR – Blood Flow Restriction Training
How is it used in rehabilitation?
At All Edge Physical Therapy locations, BFR is a technologically efficient method used to recondition a patient's extremities. By applying a tourniquet briefly and intermittently to the exercising limb for the sake of reducing the amount of blood flow, our ACL repair patients benefit from significantly increased strength, muscle size, and endurance without the need for heavy weights.
EDGE PHYSICAL THERAPY was THE FIRST ADOPTER OF BFR TRAINING IN NEW JERSEY
Blood Flow Restriction Rehabilitation (BFR) is a paradigm-shifting intervention for rehabilitation that briefly restricts the flow of blood during exercise to lead to support greater strength and endurance.
This safe, natural and effective technique is used throughout the professional sports world. A few minutes of restriction can help athletes make significant gains and help those recovering from injuries
How does BFR Therapy and Training work?
The reduction in blood flow and circulation from the safe use of the tourniquet causes a cascade of metabolic and hormonal responses that ultimately allow for a sustained response fueling protein synthesis – the building block for muscle growth.
The amazing clinical results are shown below
Typical loss of muscle after ACL Knee Surgery after 6 weeks = 30%, with BFR = 5%
Increase muscle strength with 30% of the normal weight that you would use
Improve muscle endurance in 1/3 the time.
Improve muscle gain in the elderly to help stop muscle atrophy, bone density changes, ultimately leading to a safer more active you.
Make significant post-surgery gains
Improve growth hormone and testosterone naturally
As the first provider in the state to adopt this amazing technology, we have gone beyond typical protocols and use blood flow restriction training to enhance our physical therapy programs.
Optimize your performance and recovery through holistic personal training and wellness services.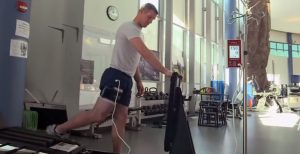 How can BFR Blood Flow Restriction Treatment Help Me?
BFR treatments help to improve your metabolic and hormone response allowing you to use safer loads while still packing an incredible clinical punch to improve your muscle gain, muscle strength, effectively reducing healing times and recovery times.  This is paradigm shifting modality that has been used in all professional sports clubs and is available since 2016 at EDGE.  Schedule your consultation today!
Our team of physical therapists and staff coordinate their efforts to maximize pain relief and activity restoration through the utilization of game breaking modalities and technological advances.  Our team also educates you on keeping up your progress at home, as well as informs you on when to use certain modalities when not in the clinic.  Choose the team that cares!