Whole Body Vibration (VibePlate)- Physical Therapy
How is Whole Body Vibration used in rehabilitation?
At Edge Physical Therapy, the VibePlate is a comprehensive tool used to increase a patient's strength and work capacity, as well as recovery. By having our patients perform exercise movements on the VibePlate on 55Hz, our patients are better able to activate their muscles, increase stability, and warm up properly as a starting point for each treatment session. Other benefits of the VibePlate include improved circulation for swelling in post-op patients, increased bone density for the geriatric population, and boosted metabolism for sports athletes.
Vibeplate Therapy for Increased Bone Density
During normal exercise, your muscles will contract on average 1-2 times per second.  The specific vibration technology within VibePlate causes your muscles to contract between 10-60 a second helping to contract up to 90% of your muscle fibers.   This increase in muscle contraction helps to develop increased muscle tissue and bone density.
What Conditions does Whole Body Vibration Improve?
Whole Body Vibration has been proven to provide relief from muscle soreness and inflammation while improving bone density.  It has been proven to help patients with the following conditions: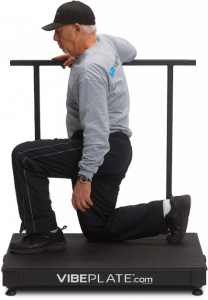 Our team of physical therapists and staff coordinate their efforts to utilize the vibeplate as an adjunct to your treatment.  Work with the team that cares!